Serendipity brought Jean-Louis Lepage, co-owner of Custom Imprints, from his early years in the scenic Lorraine Champagne area of northeastern France, to running Custom Imprints in the picturesque and historic town of Frederick.
This year the former (and now volunteer chef), and his partner, Marsha Young (also a chef), will celebrate Custom Imprint's 21st anniversary!
Many of our readers are familiar with seeing Jean-Louis' smiling face about town (often cooking for a nonprofit activity), but it's interesting to learn how he came to be a partner in Custom Imprints.
At 22, Jean-Louis left France to spend a year traveling around Africa with a friend. In 1974, a friend he'd met during his travels invited Jean-Louis to visit him in McLean, Virginia.  From there, they traveled throughout the United States and Mexico, heading as far south as the Yucatan Peninsula. He met and married his wife of 42 years. Along the way, he picked up English, and after several jobs, he became chef and owner at The Blue Fox Inn and later Chef at the Comus Inn at Sugarloaf Mountain, in Dickerson, Maryland.
While at that job, Jean-Louis met with an acquaintance who had done some screen printing for him.  The idea of getting into embroidery caught Jean-Louis' attention.  That's when he met Marsha Young, who, ironically, was also a friend of the screen printing contact, and also had a background in food service.
Together they started their business with one embroidery machine in a warehouse on Third Street.  After expanding at another location, they opened in their current building at 407 N. Market St. in 2000. Their staff now includes seven people at their 407 location and two in the screen printing facility across the street. He and Marsha both enjoy sharing their culinary talents with their staff. Arrive at their office around 1 p.m., and you're sure to encounter the smells of a savory lunch!
The business has been through some tough times, such as the recession that hit in 2008. "Thank God I owned the building here – it was a great help to be the owner – we weren't hit as hard as some businesses," remembers Jean-Louis.
Married to Gena, with two adult children, Emilie and Marcus, Jean-Louis has been the smiling face of the business out in the community, whereas Marsha is typically the behind-the-scenes operations partner.  Jean-Louis is involved in numerous projects of the Carroll Creek Rotary Club, including Oktoberfest, Bikes for the World and Color on the Creek.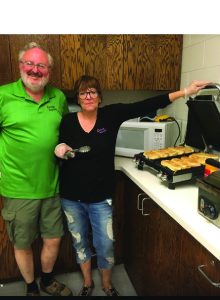 Additionally, he and Marsha have provided T-shirts for the Way Station's Turkey Trot, volunteer at the Tour de Frederick, and lend their cooking talents to Blessings in a Backpack and Mission of Mercy.
 "I love Frederick, so it's great to raise money and put it back into the community," Jean-Louis  says with a smile.